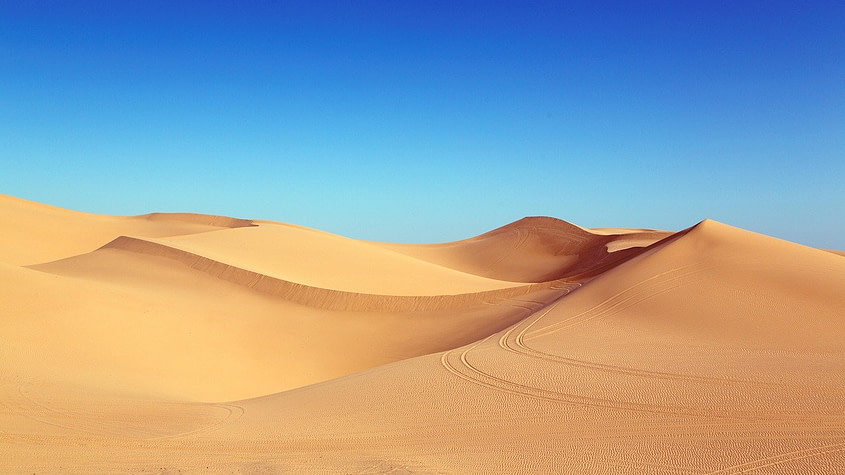 Thirsty throats, sparse vegetation, camels, hot and dry climate, sunny days and freezing nights, no rainfall, a glittering mirage, and extreme living conditions-this is how we figure out a scenario whenever we think of deserts. But deserts are an extraordinary beauty of nature. A place is technically called 'desert' if it gets less than 25cm of annual rainfall. This is the reason why it lacks greenery and mostly has lonely desert plants, thorny bushes with water-efficient living mechanisms. 
It also affects animals and other creatures, and very few species of animals and birds can be spotted in these deserts. An amazing fact about them is that they cover about one-third of the earth's total land surface.
Their types can be defined in many ways depending upon various factors such as rainfall received, humidity, temperature, number of rainy days but the two main divisions of deserts are hot deserts and cold deserts.
Now we will be talking about the top 10 biggest deserts in the world and will also have a look at some of the most interesting facts about them.
List of 10 Biggest Deserts of the World
The Antarctica Desert
This continent, which is located in the south pole region of the earth, is the largest desert and the oldest in the world. This cold dessert is spread over an area of 14,000,000 km2. Many other facts are also related to this continent. It is the windiest, driest, coldest and has the highest average elevation among all other continents. 
It only receives 20cm of annual precipitation, and that too in the coastal areas. Even this rainfall cannot be spotted because of the coldness as it falls as snowflakes.
Arctic Desert
With a total area of about 13,985,000 km2, it is the second desert in our list of the world's top 10 biggest deserts. This cold desert occupies the region of the North polar region of the earth and has a unique ecosystem. Few indigenous people battle here for their existence in such an unfavourable living climate. 
It receives annual rainfall between 15 to 25cm, and the conditions in the Arctic desert are very much similar to Antarctica except for the rain factor.
Sahara Desert
Till now, we have discussed two of the biggest cold deserts in the list of the top 10 biggest deserts of the world. Now, let's talk about the biggest hot desert, which is the Sahara Desert. It occupies the region of the Northern African continent and has an area of 9,200,000 km2. 
It covers many parts of different countries of the world like Libya, Mali, Algeria, Chad, Mauritania, Morocco, Sudan, Tunisia, Western Sahara, Niger, etc. Its name Sahara means 'desert' in the Arabic language. This desert occupies 31 % of Africa's total land area and is also regarded as the biggest low altitude desert on the earth.
Australian Desert
It is the fourth biggest and second-biggest hot desert on this planet, with a land area of 2,700,000 km2. Also known as the 'Deserts of Australia,' it occupies 18% of the Australian mainland's total land area and receives comparatively more rainfall than the other such deserts, but it is not distributed evenly. Some areas are lucky, while some never receive a single drop of rain throughout the year.
The Arabian desert
It is the 5th biggest desert in the world and the largest one in the Asian continent, with a land area of 2,330,000 km2. This hot desert occupies the areas of western Asia. There is a place in the centre of the Arabian desert called Ar-Rub-Al-Khali, which has the world's longest continuous sand bodies.
Gobi Desert
The next desert in our list of top 10 biggest deserts globally is the Gobi Desert, which is a cold desert and is spread over an area of 12,95,000 km2 of the Eastern Asian region. Its temperature can fluctuate between 40 degrees Celsius to -40 degrees during different times of the year, with an average temperature of 2.8 degrees C. The average annual precipitation is less than 10cm, and some parts of the desert may have to wait for up to three years for rainfall.
Kalahari
Located in the southern African region, this is the seventh-largest desert with a land area of 900,000 km2. It has a temperature range of -15 degrees Celsius to 45 degrees Celsius. It is called a semi-desert because some areas can receive up to 50 cm annual rainfall. Despite that, it lacks surface water, and the substrate lacks moisture as rainwater gets quickly drained. 
It covers South Africa, Namibia, Botswana and gemsbok, wildebeest, Kudu, springbok, brown hyena, bat-eared foxes, and Cheetah Kalahari lions and leopard are the common animals which can survive in arid conditions, are found here.
Patagonian Desert
It is the 8th biggest in the world and the biggest desert in Argentina, with a land area of 620,000 km2. It is a cold desert that is famous for its glaciers, vivid wildlife, and mountain peaks. It receives between 5-8 inches of annual rainfall.
Syrian Desert
This hot subtropical desert is the ninth-largest desert with an area of about 5,20,000 km2. Located in the Western Asian region, it has rocky surfaces and dry riverbeds and, in the south, it meets with the Arabian desert. 
It receives less than 5 inches of rainfall every year. It is home to many nomadic tribes and Arabian horses' breeders.
The Great Basin Desert
Spread over 492,000 km2 of land area, it is the tenth desert among the world's top 10 biggest deserts. Great Basin National Park is a major attraction here, and it lacks rainfall, and most of the water is drained out or evaporates. It has snowy winters and arid and hot summers. One can experience the darkest of sky nights in this desert and can observe thousands of stars and five planets with naked eyes on the clearest nights. 
So, these were the top 10 biggest deserts in the world. Hope you found this helpful.
Top 10 Cement Companies in India: Like every other company, the cement industry also has s…